"My work is inspired by the body, its absence, and its anxieties. I create an unsettling, vulnerable, feminine, and whimsical beauty. Traditional dolls have a horrifying and overly sweet mask-like quality. The dolls I have been creating for the last few years represent meat-suit bodies that nudge the viewer's awareness of the humanity, vulnerability, and shame that we, as individuals, wear throughout our lives.
During the Covid-19 Lockdown, I paused my doll-making and experimented with divergent materials focusing on peculiar details and uncommon body references. I began an extensive series of collages combined with watercolors that provided an opportunity for increased range in my work while satisfying my desire to make tactile and dreamlike details. Working this way allowed me to capture additional subtle nuances I couldn't do with the dolls.
Collaging expanded my practice, and I developed a curiosity about materials, parts, and their ability to combine and I began responding intuitively. I enjoy the spontaneity of sculpting the clay by cutting, slumping, and readjusting sections. Unnerving and disconnected experiences are the most real because they are beyond explanation and don't play by unwritten rules, and I like to tap into that visually."
Bio:
Sonja Peterson is a Seattle paper artist, painter, fiber artist, and ceramic artist located in Shoreline, Washington. She received her MFA in printmaking from the University of Washington in 1997.
Sonja's work has been featured at the Kirkland Art Center, Washington State University, and SOIL gallery. Her most memorable shows were "Dancing with Dummies" at the Hard L Gallery and "Bedtime Stories" at the Calypte Gallery, where she paired up with artist Eve Cohen. The two created a menagerie of deviant dolls, and women wore human-sized mutant doll outfits.
In 2022, her work was featured in "Daydream Doodle," curated by Peter Gaucys of Orcas Pailey, "Clay Maquette," curated by Laura Brodax at Modern Glaze, and "Shadow Show" at the Siderail gallery curated by Becky Harbine.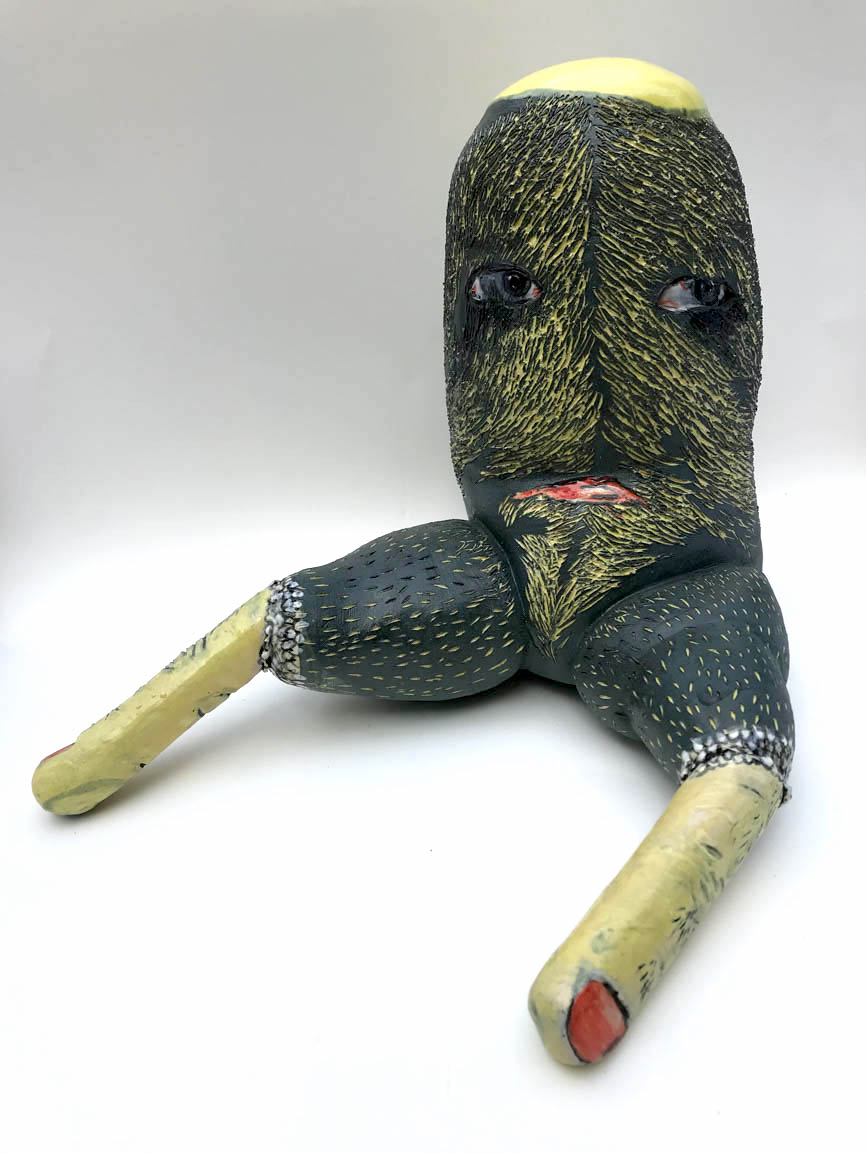 Throbber, 2022
Glazed Ceramic
11" x 10" x 10"
$2,000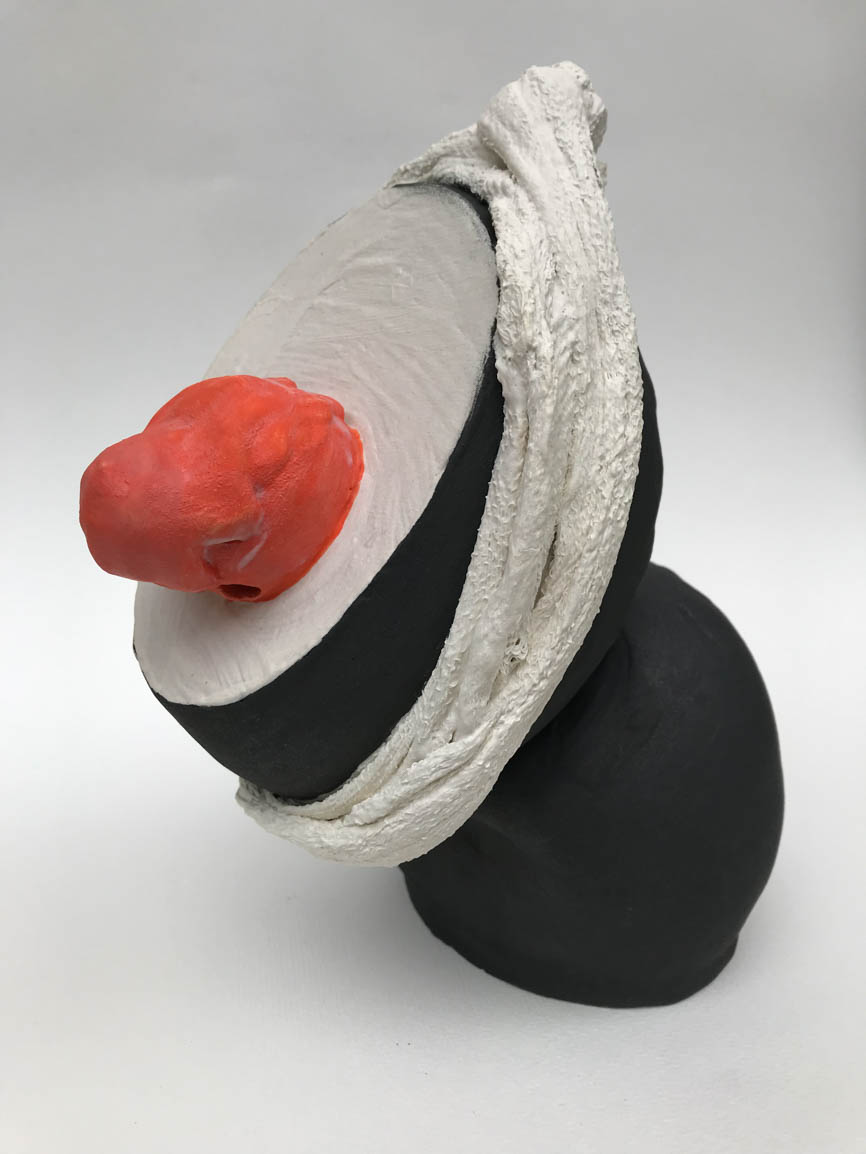 Toothache, 2022
Glazed Ceramic
5 ¼" x 8 ½" x 5 ¼"
$350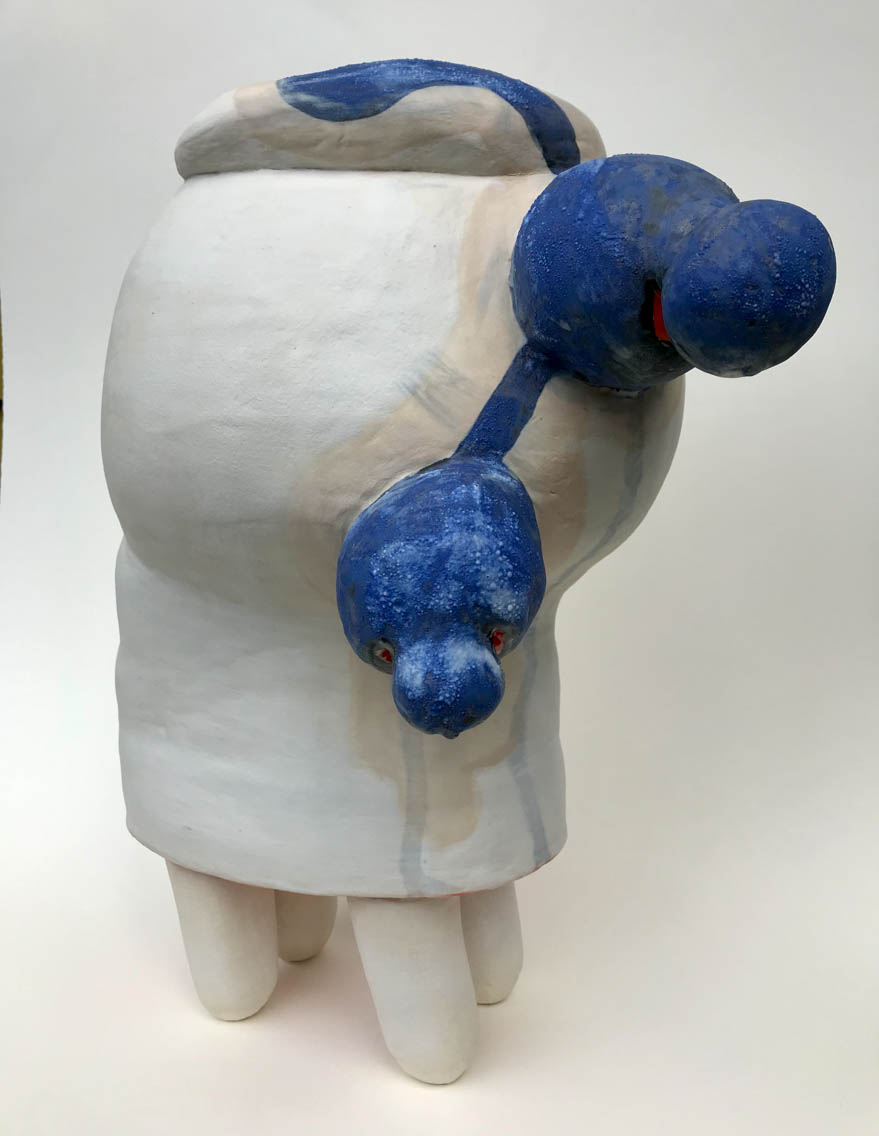 Shapewear, 2022
Glazed ceramic
15" x 11" x 6"
$500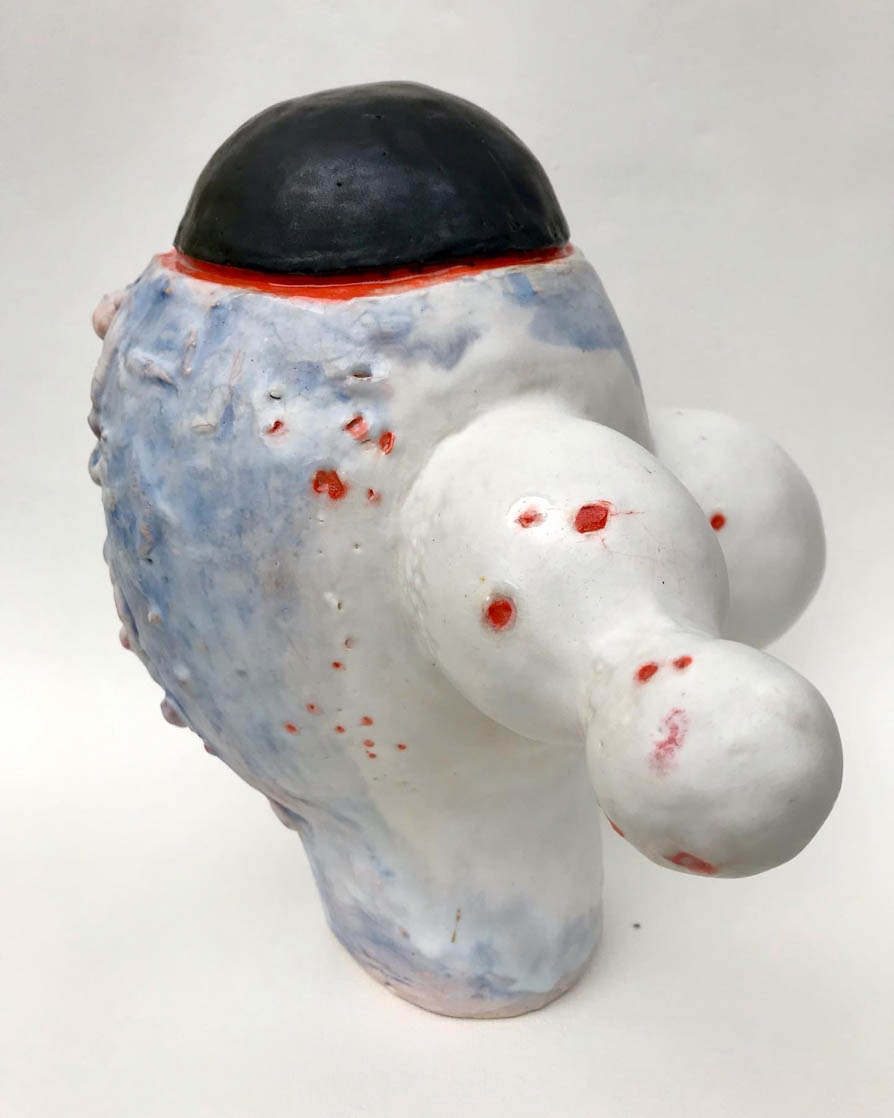 Doll, 2022
Glazed ceramic
8" x 9" x 8"
$475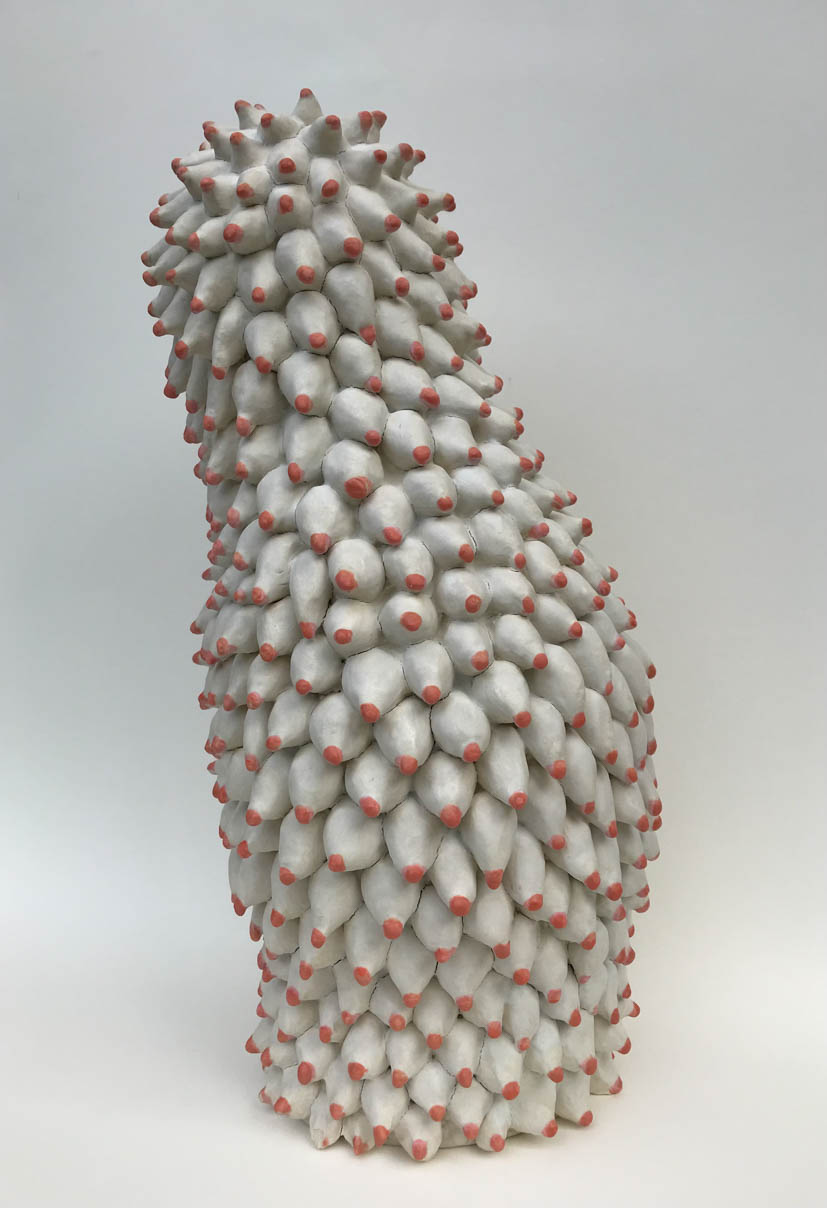 Frau Milk Parlor, 2022
Glazed ceramic
16" x 7" x 6"
$4,000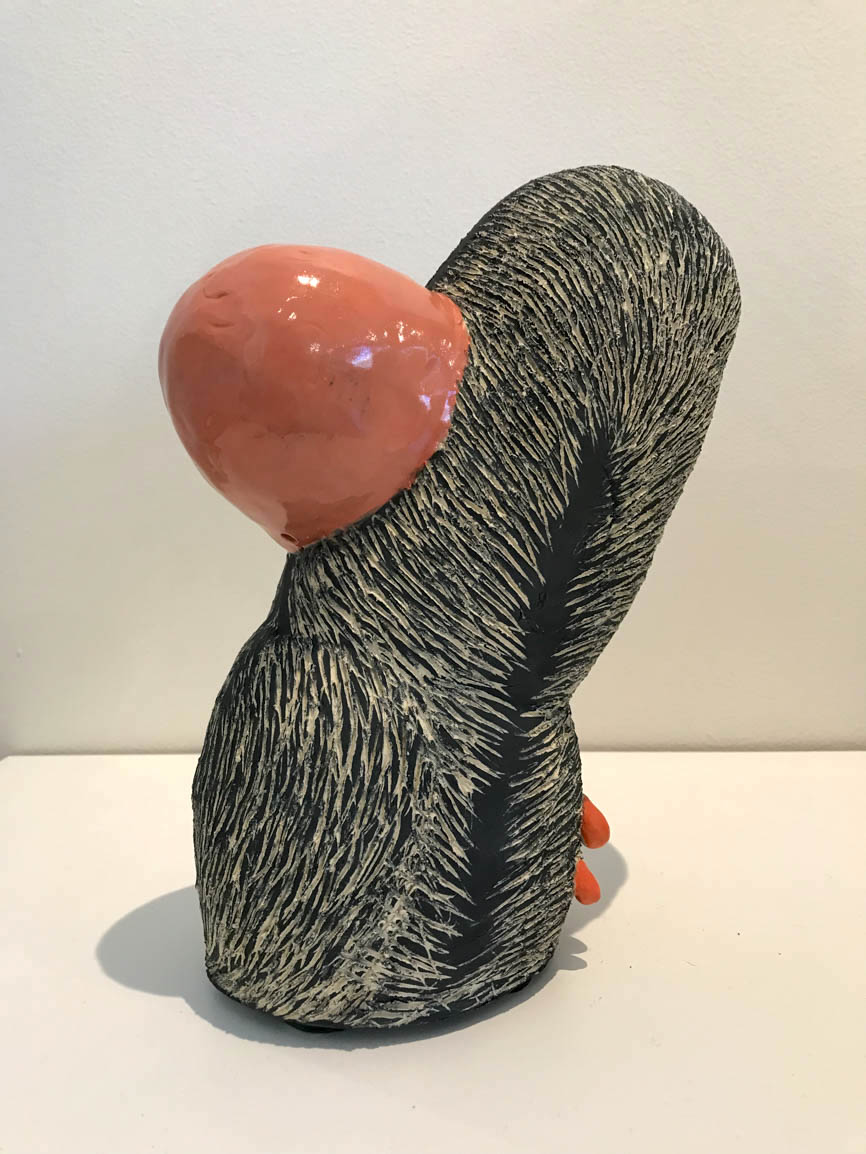 Carbuncle, 2022
Glazed ceramic
11" x 7" x 7"
$450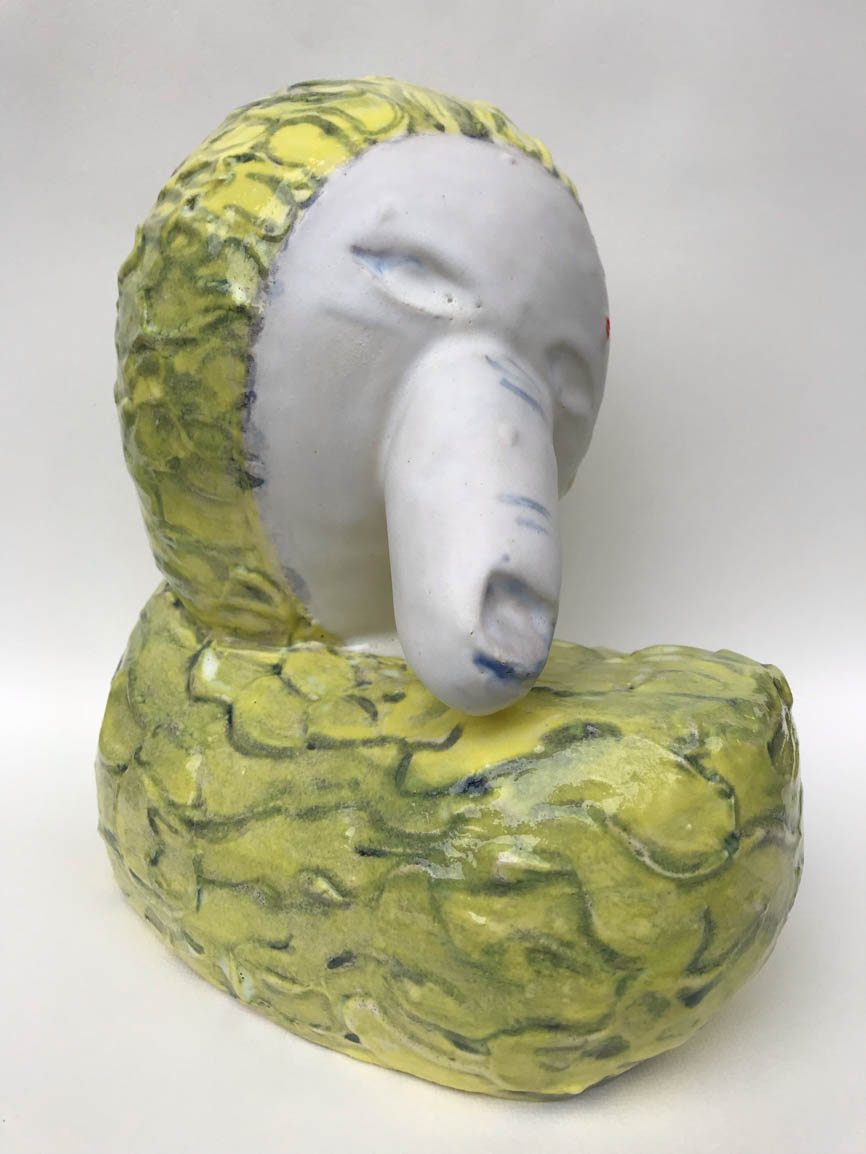 Finger Duck, 2022
Glazed ceramic
10" x 8 ½" x 6 ½"
$600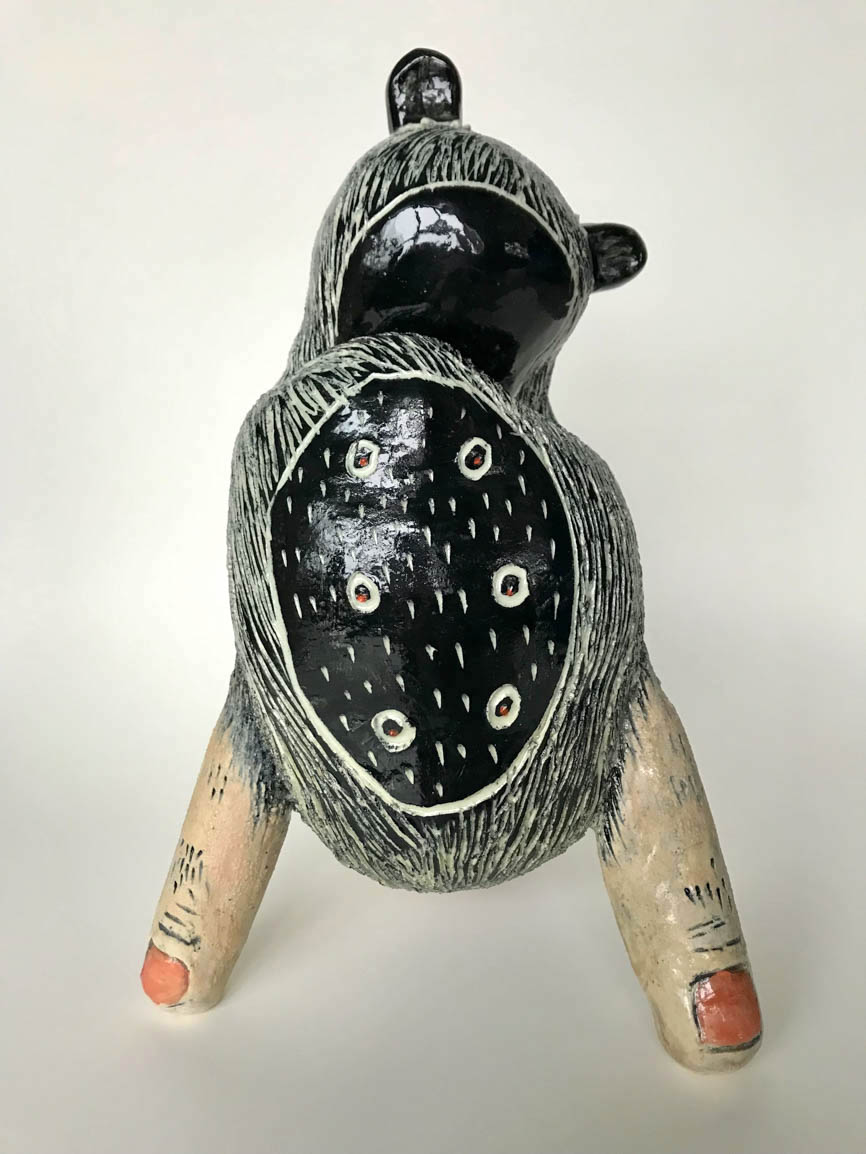 Snaggle Waggle, 2022
Glazed ceramic
11" x 6" x 6"
$500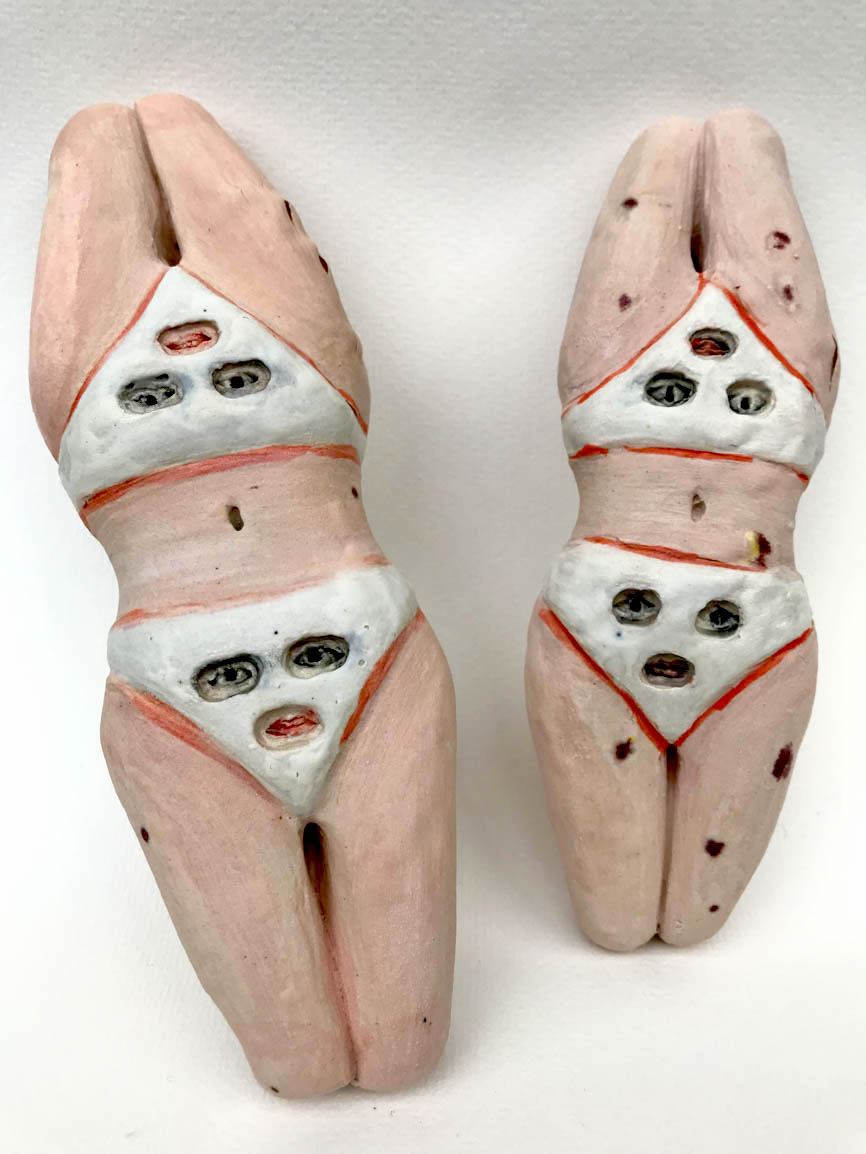 Swimmer, 2022
Glazed ceramic
2" x 5" x 2"
$325 each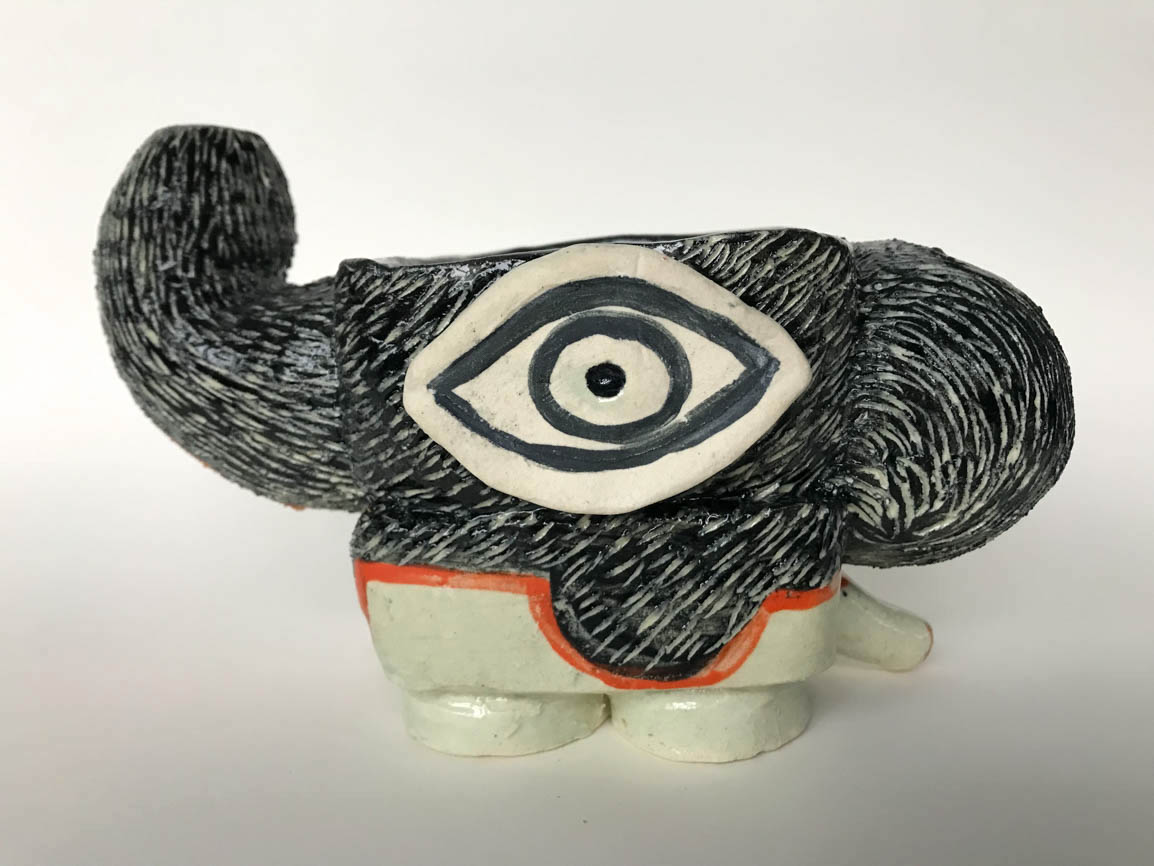 Elephant planter with ponytail palm, 2022
Glazed ceramic
4" x 8" x 4"
$200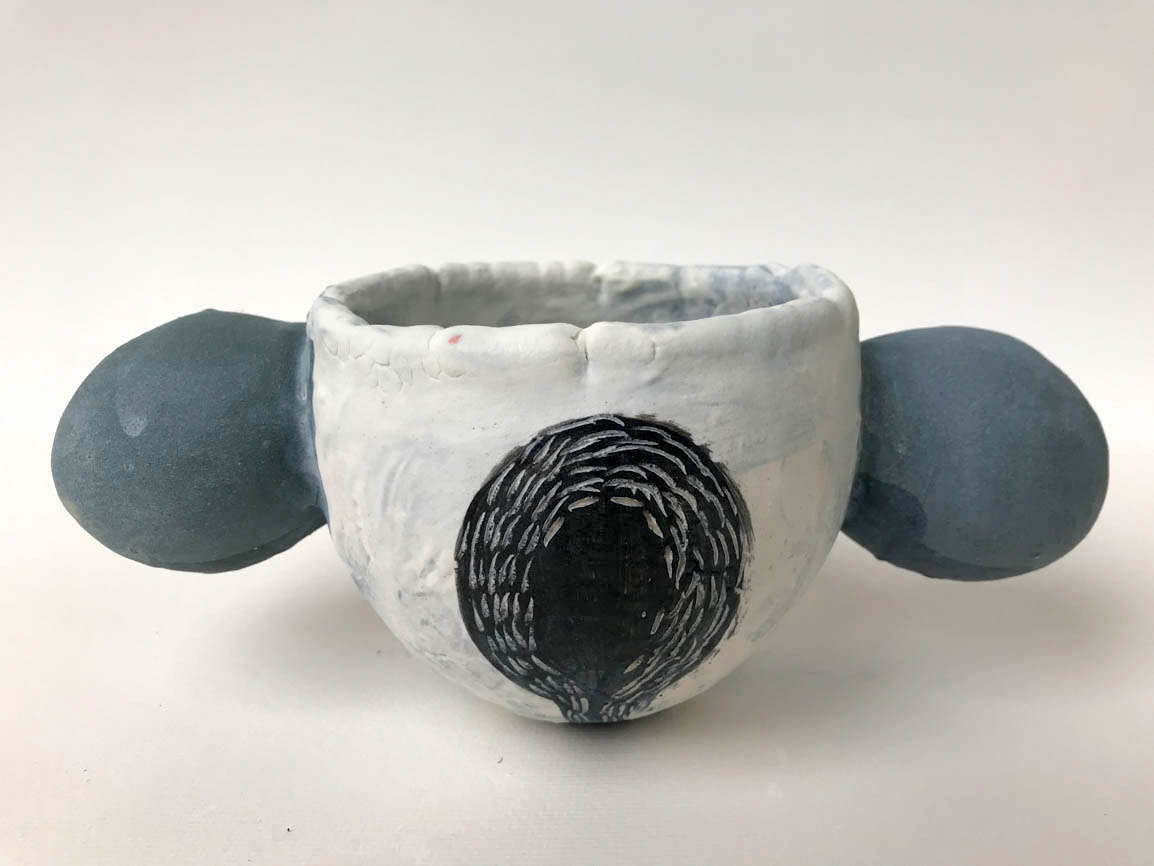 White and grey pot, 2022
Glazed ceramic
3 ¾" x 9" x 3 ½"
$120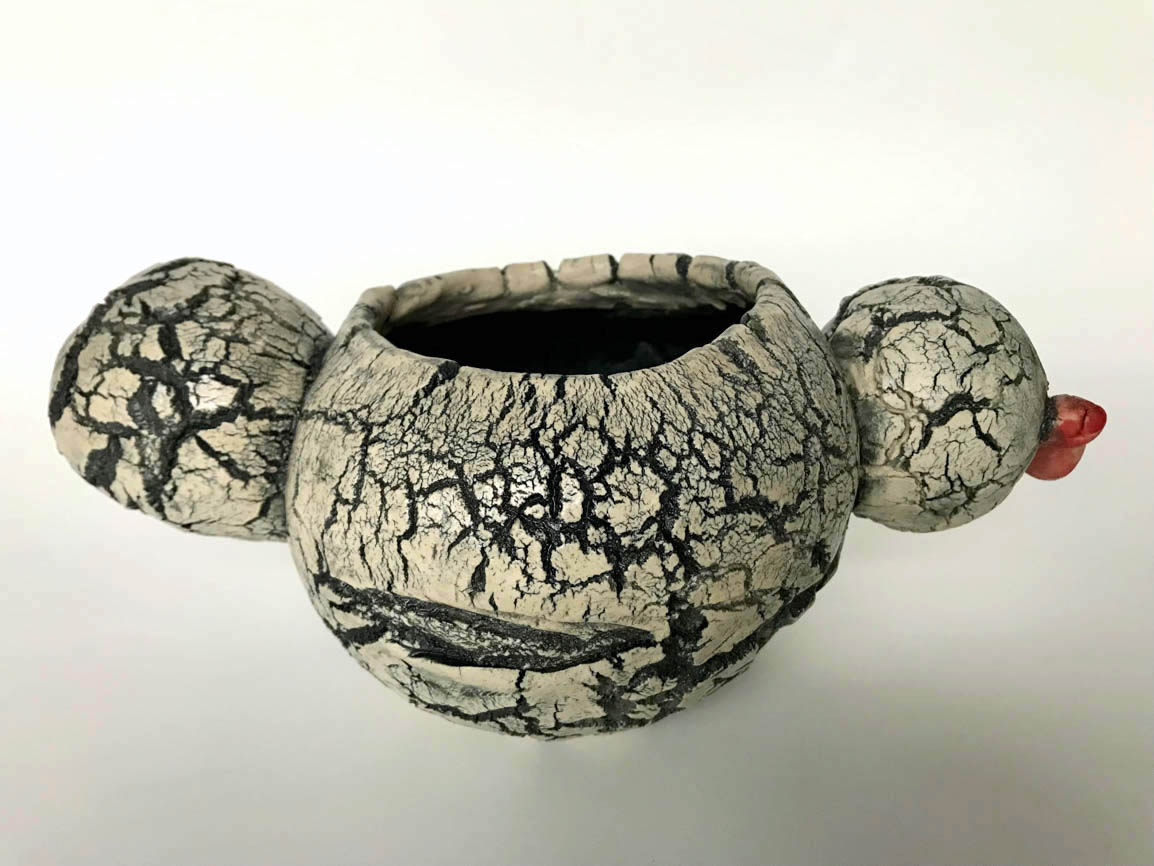 Crackle pot, 2023
Glazed ceramic
4" x 9" x 5"
$120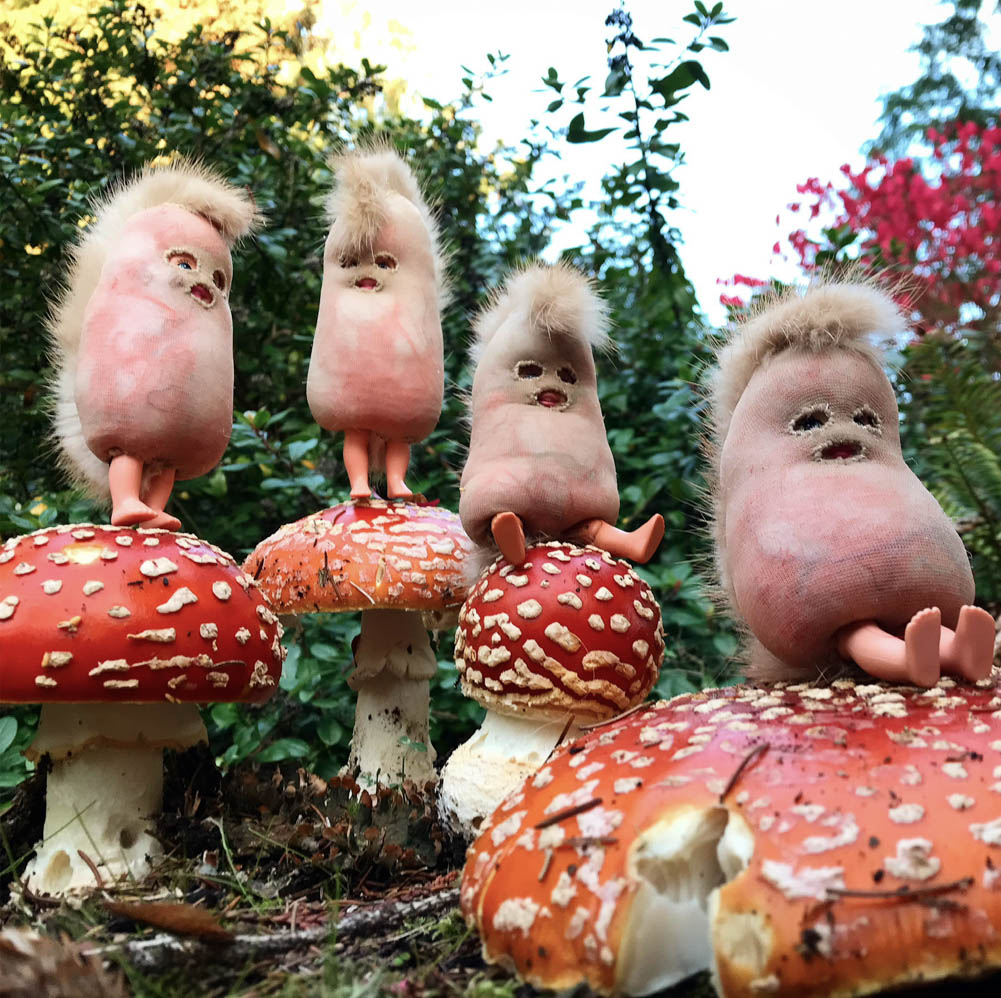 Mini dolls, 2023
Nylon, thread, mink fur, polyester fill, plastic doll parts
Sizes vary
$80 each