Lots to see and do at AMcE, your Home & Away from your home here at the gallery. Or something like that.
We've recently launched our Instagram Live artist talk series. First up was Ms. Sophia Allison followed by Ms. Christine Nguyen.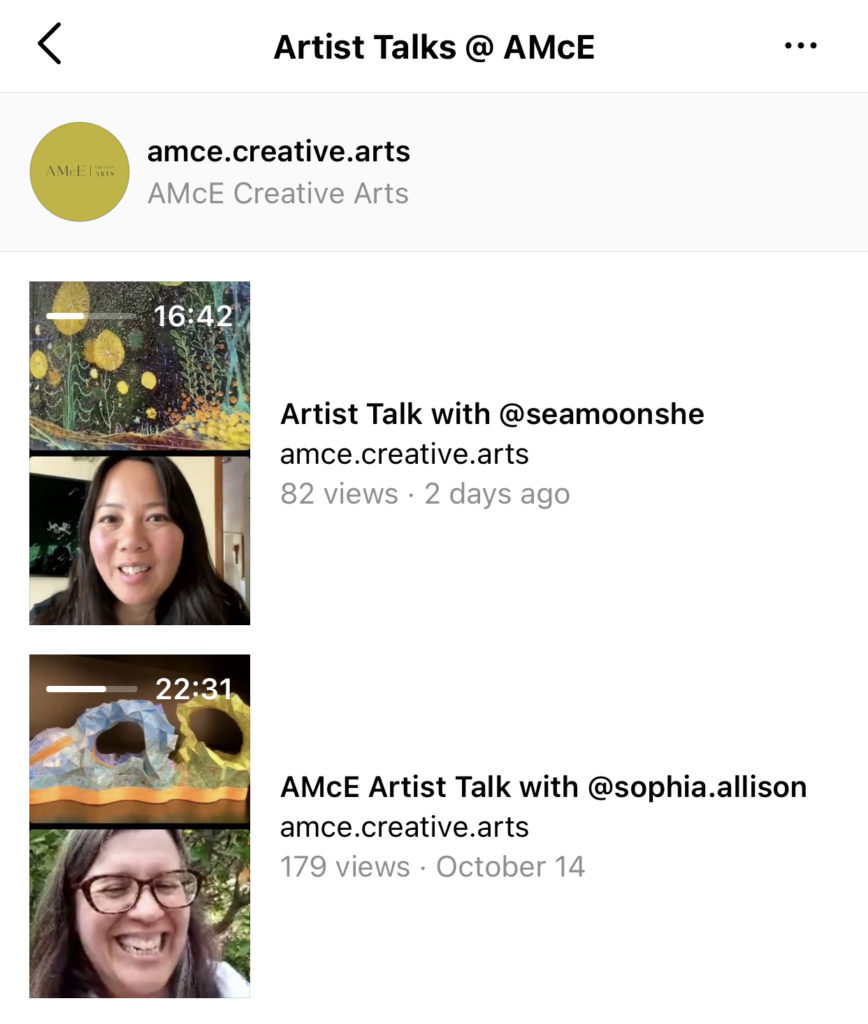 Hosted by AMcE Team Member Cay with (sporadic and unpredictable) pop-ins by AMcE founder McLean, they've been both illuminating and fun, with some streaming delays withstanding. After going live, they are posted on IG TV on our IG page.
And there's more coming up!
During our upcoming Home & Away group show, we'll host virtual artist talks. Home & Away features eight national and Seattle-based artists, all which will be brought to the comfort of your own phone or tablet.
There will also be an in-person talk with Colleen Monette to discuss her work in the show and her cabinet of curiosity-esque installation in the Niche Market main space. And Magda Baker will discuss her Devils at the gallery on December 2. We'll also broadcast these talks on IG.
And there will be workshops – virtually and IRL. Save these dates!
Artist Talks:
November
11/11 at 12p Katie McCann IG Live artist
11/13 at 2p Colleen Monette artist talk at the gallery
11/19 at 12p Krista Svalbanos IG Live artist talk
December
12/2 at 12p               Magda Baker artist talk at the gallery, which we'll IG broadcast
12/9 at 12p Jennifer Vanderpool IG Live artist talk
12/16 at 12p Johanna Goodman IG Live artist talk
And look for a Q & A with Adrian Landon Brooks on our News & Events page.
Events & Workshops:
11/11 5p- 7p Capitol Hill Art Walk + DIY collage table
12/4 12p-4p Community Ornament Making + Supply Drive Mary's Place (limited spaces + timed entry)
12/95p- 7p Capitol Hill Art Walk + DIY snowflake making
12/11 at 2p Felt ornament making with artist Nina Vichayapai
12/18 at 11a Hey Lady Studios (Jan Waldon) Zoom artist talk + embroidery workshop
12/18 4p – 6p AMcE's six-month bi-anniversary celebration with champagne and nibbles
12/27 – 1/8 New Year's Wishes on the Windows
We'll post event details on the News & Events page, and RSVPs and tickets will be available on our Eventbrite page. And if you are madly curious about anything or anyone, you are welcome to reach out.