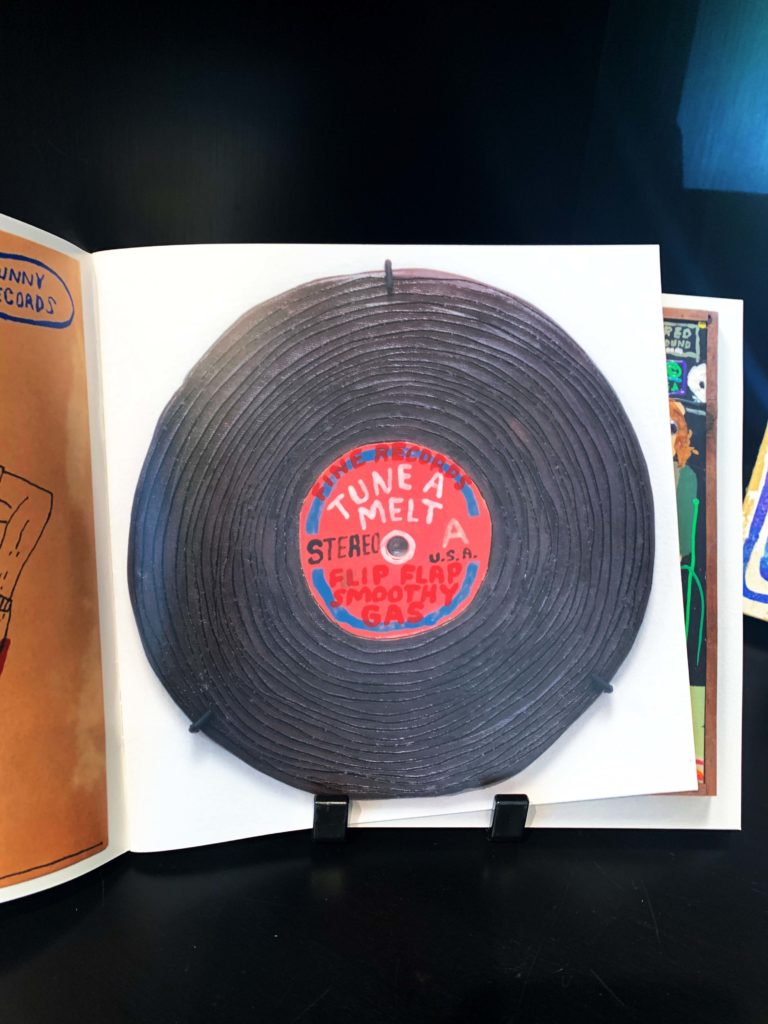 A page from One Hit Wonder
Collection of Mark's paintings from his show at Vielmetter Los Angeles
Full color, 24 Pages, soft cover
8″ x 8″, signed and numbered
About Mark: After graduating with honors from Art Center, Pasadena, CA, Mark moved to New York and began working with clients such as The New Yorker, Sony Music, Rolling Stone among others. He later moved back to Los Angeles to continue his freelance career, working with book publishers, ad agencies and teaching illustration at Art Center. Along with his wife Esther Pearl Watson and some fellow artists, they formed Yosemite Studios in Eagle Rock, bringing together a group of inspiring and creative talent. Mark currently co-owns Hey There Projects gallery in Joshua Tree, CA, with artist Aaron Smith. Mark lives and works in Sierra Madre, CA and often works with Esther on book and animation projects.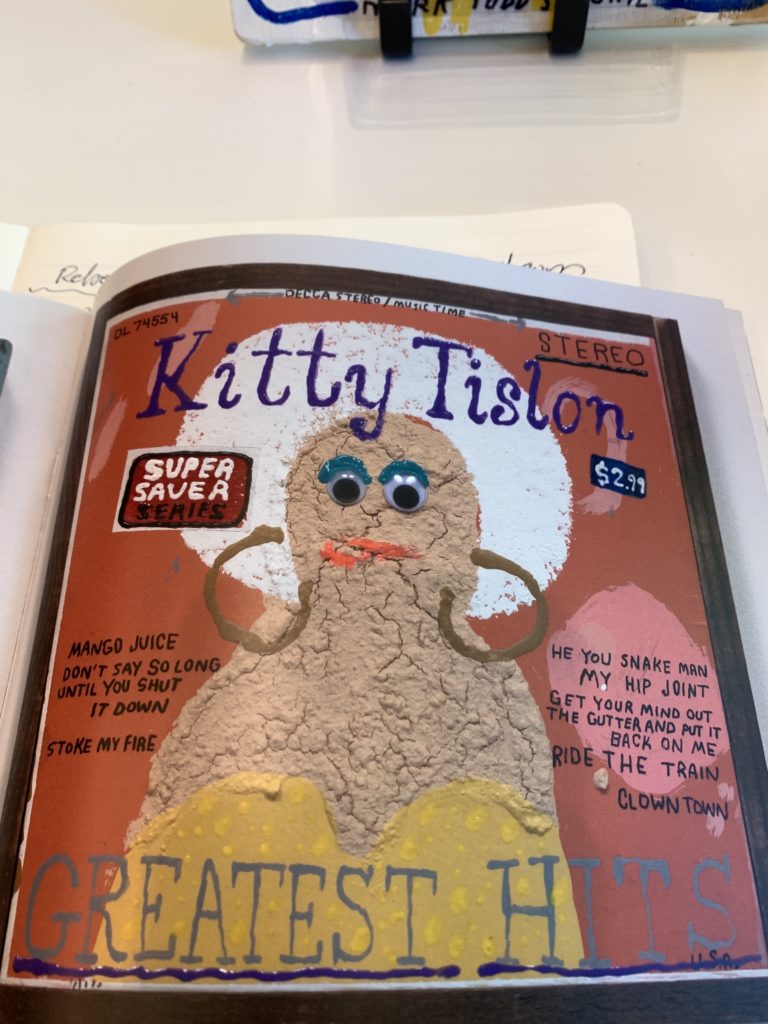 We love all your vinyl record-inspired work – what's your connection to music/bands/album covers?
I was never a big collector of records since my taste for music started in the early 80's and by then my friends and people around me seemed to be mostly into buying cassettes. Then after my grandfather-in-law passed away a few years ago I inherited his record collection. He was a radio station owner in Texas. Soon after, my dad gave me his old LP's. These were mostly albums from the 60's and 70's. I found a turntable at a yard sale and started listening to them. My collection quickly grew as I searched for records at local thrift shops.
For fun, I started redrawing and posting on social media daily black and white drawings of some of the records I had picked up. I would also include some text about what each one meant to me, where I got them or what I remembered about them as a kid, usually humorous writing about things like hairstyles, song titles and why I owned them. This was just a way to challenge myself to draw every day and promote my work. These drawings in my raw style led to a collected self-published book called The Daily Record. My gallery in Texas saw the records and suggested I do an entire show of record covers.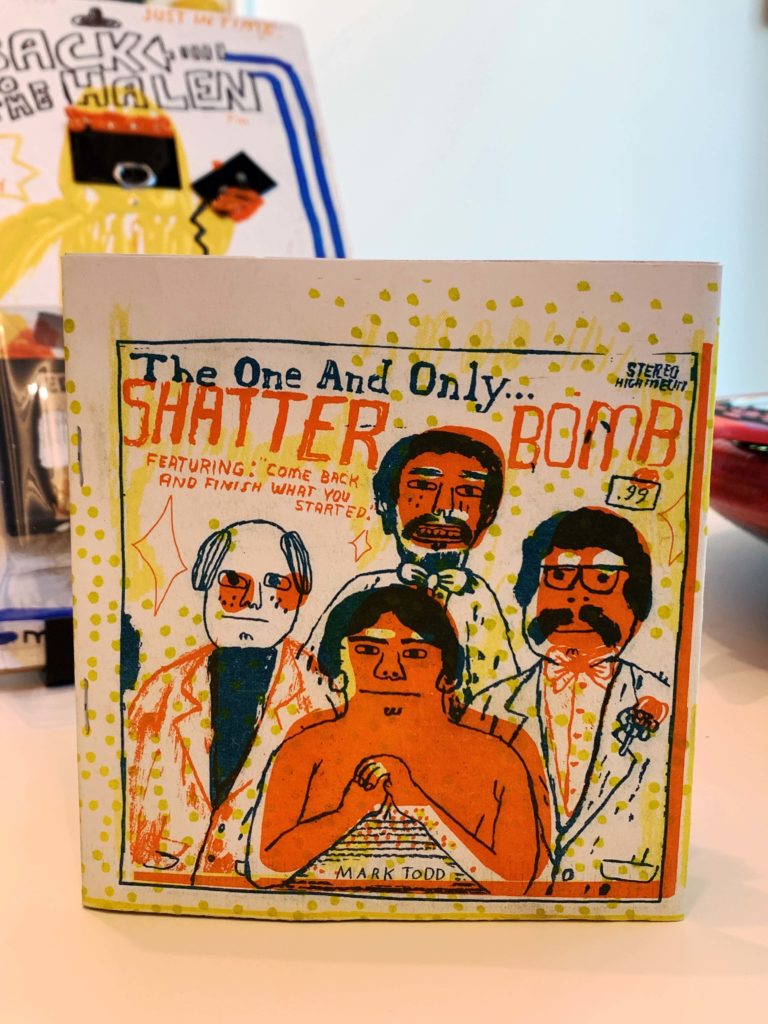 Shatter Bomb Zine
Collection of fictitious records, Riso printed
5 ½" x 5 ½"

Is there a zine that inspired you to start making your own?
Yes, it was a zine by [cartoonist] Ron Rege, Jr. called Andy Remembers. The writer (I forget the name) recalls friends he went to grade school with and Ron did drawings of them from a yearbook. It inspired my first zine called John, which was a bunch of one-page stories about a kid I grew up with in grade school in Las Vegas.
(Mark and his wife Esther Pearl Watson collaborated on Whatcha Mean, What's a Zine? The Art of Making Zines and Mini-Comics.)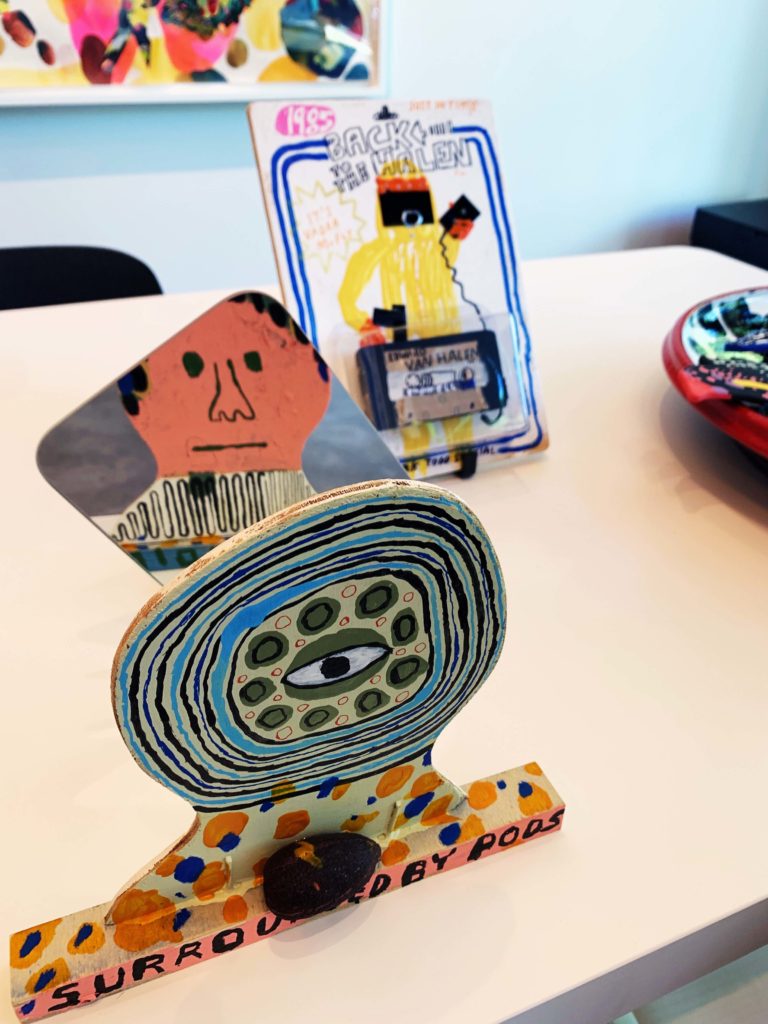 Humanoids Surrounded by Ponds (back), 2020
Mixed media sculpture
9″ x 9″ x 1″
Background: Back to the Halen Figure, 2020
Celebrating the 35th anniversary of Back to the Future and the life of Eddie Van Halen
Limited, signed artist proof
How would you describe your style?
People who haven't seen my work sometimes ask me what my work looks like. I find it difficult to describe other than to just say it's raw or non-traditional. Sometimes I'll compare the work to other artists such as [Philip] Guston or maybe what you might see on a teenager's high school notebook. But I'm not sure if that really describes it correctly anymore. Although I went to school for art, I have always tried to keep the feel of how a teen with a bit of talent might draw, paint, and see the world.
I am hoping that people find my style and this series humorous and visually arresting. Much of my work deals with humor on its surface, but I have also always tried to capture a certain melancholy and nostalgic memory of the past. I realized that when you put your own personal stories and memories into the work, it resonates in and connects in a universal way.