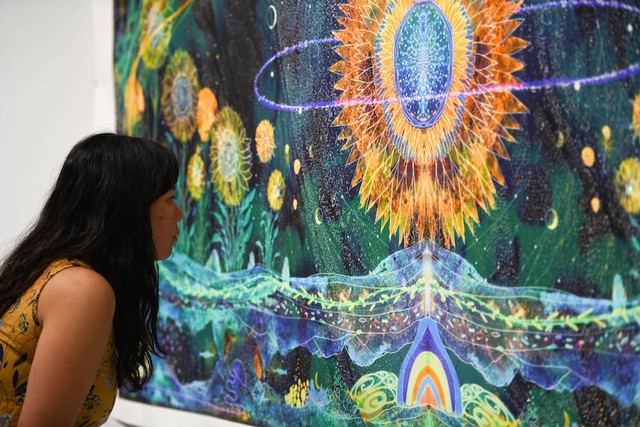 AMcE artist Christine Nguyen's work is an exploration of an imagined micro and macro universe that engages vibrant conversations between the celestial and terrestrial. It also incorporates her love of experimentation in finding new ways to create a synthesis between the natural and human-made worlds. In her practice, her work takes on many forms including unique photo-based paintings, large-scale installations, and delicate ceramics.
In the spring of 2022, Christine translated her work into the virtual world through her collaboration with The Music Center's Plaza Augmented in Los Angeles, CA. The outdoor, public art project includes virtual-reality art installations utilizing artificial intelligence that adapts the artwork into an interactive, audience-directed experience. 
Since this is newer terrain for Christine, we wanted to ask her about the experience of working in the AR field. Here is our recent Q & A with her about the Music Center project.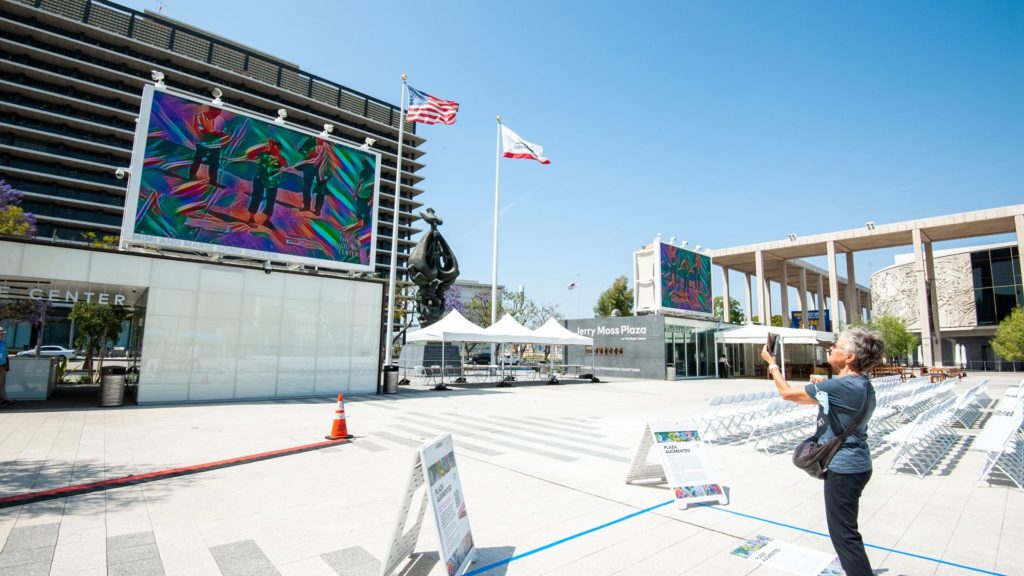 How did you come to be involved in Plaza Augmented?
I was approached by a few curators in Los Angeles about the project. I submitted images of my work and a statement for their review to be considered alongside a selection of other artists.
The chance to work with yU+co* and to work with an AI system was exhilarating. I've always wanted to experience my work through movement and to create an interactive experience, so this opportunity was perfect for me!
*yU+co is a LA-based digital innovation studio crafting content and design through collaboration.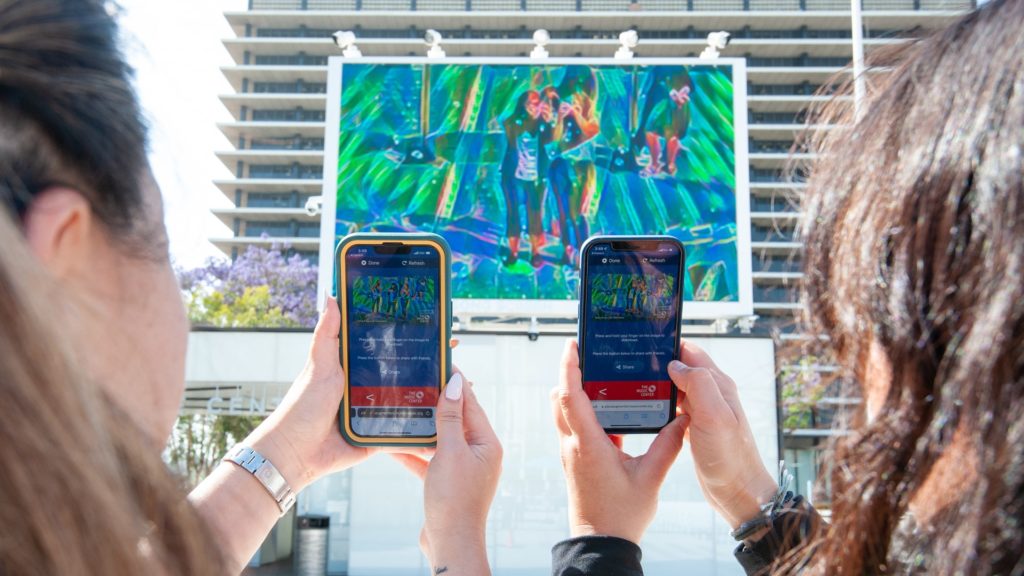 Was this experiential work designed in conversation with the pandemic?
I believe the project planning stage began right before the pandemic and was understandably delayed as the pandemic progressed. In this new context, it was wonderful that the piece was accessible outdoors where viewers could be socially distanced. It took a long time to come to fruition, but the timing of its debut worked out quite well.
Can you explain the technical process by which AI interpreted your work?
For this project, I added machine learning technology to my artistic toolkit, bringing a new level of engagement to my work. With support from yU+co, I transformed a select body of my photo-based and spray paint paintings into moving and interactive experiences.
How did you work with the design studio to select your pieces?
I began by feeding the AI my work individually. Through each style it subsequently created, I grew to understand how it was interpreting my work and I began choosing works that were the brightest and most colorful. I then began adding in new pieces and playing with collaging my works so it would pick up certain colors or dynamic lines. Once a large swath of styles was created, we collaboratively chose which ones to use in the final piece.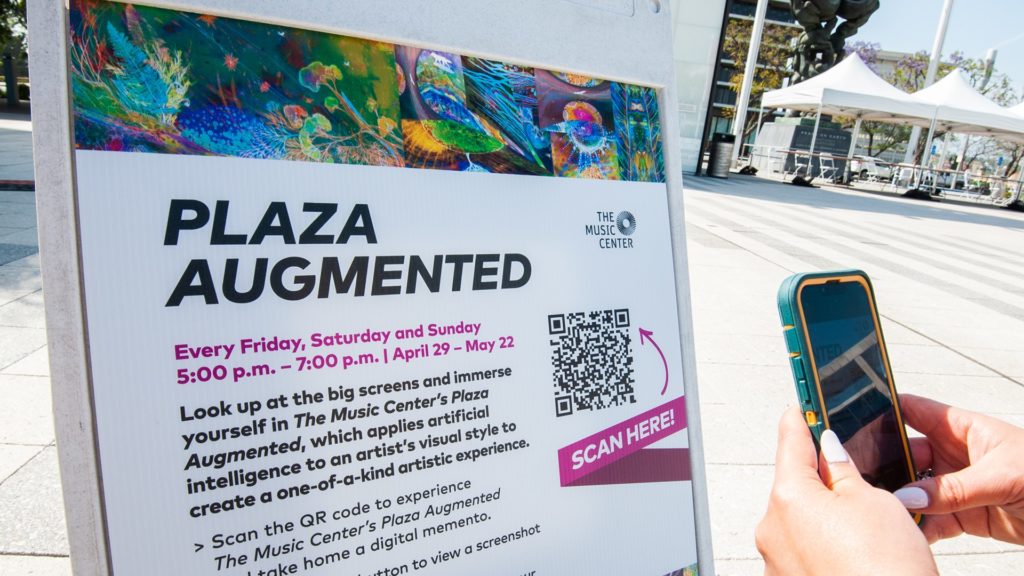 Can you describe seeing your art live in Music Center's Plaza for the first time?
It was amazing to see the large LED screens on the plaza and to have people interact with them was thrilling. I feel lucky that I could see people engage with it in person. It was like being in one of my imaginary worlds but moving in it live!
The user would scan a QR code for an app that allowed people to "take home" a digital memento of themselves inside my art that was projected onto the LED screens. A take-home piece has always been a component of my public art projects, and I love that personalized piece of my Music Center project got to go home with everyone!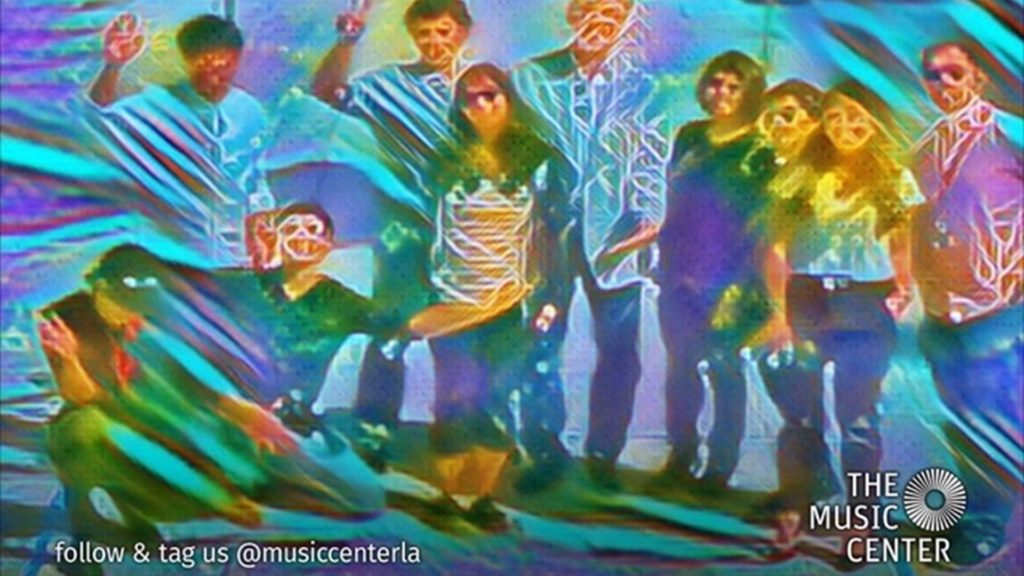 What is something that surprised you about this process?
The feeling of finally seeing the AI work live and in person was a wonderful surprise and seeing people of all ages enjoying themselves on screen in my artwork style.
In other news:
Christine's work is currently on view in the Factory in Djúpavík, Iceland, an old Herring Factory run by Hótel Djúpavík. (Image below – artwork on right by Christalena Hughmanick and Björn Hugason; Photo credit: Alexis Brancaz)
September 30, 2022 – December 31, 2022, Christine will have an installation (and give a workshop) at the Boulder Museum of Contemporary Art and Aurora Public Libraries, Colorado. She's also working on a site-specific, photo-based piece for an October 2022 group exhibition at the Bethel University Art gallery in St. Paul, Minnesota.
Spring 2023, Christine will be the artist in residence at Maine College of Art & Design Sculpture Program in Portland, Maine and will give a lecture there as part of their Gary Ambrose Sculpture Lecture Series. 
And in July 2023, Christine will be part of a group show at AMcE along with our very own artist Anne Austin Pearce among others. She will also have a solo show in Denver at Leon Gallery | A Non-Profit Arts Organization at that time.
We have her work at the gallery from her exquisite 2021 show, Cosmic Gardens, and you are welcome to come visit it anytime.